Definition: ​Medical billing is the process of collecting fees for medical services rendered.
Search our network for FREE medical billing information.
Medical billing, as referenced by the definition above, is the process of collecting fees for medical services rendered. Sounds pretty simple... Until you start asking questions! What are medical services, how are the medical services rendered, who pays the medical fees, and exactly how does this happen? Well, if you want to know more about medical billing, you've come to the right place! The diagram below is a high level representation of the medical billing process.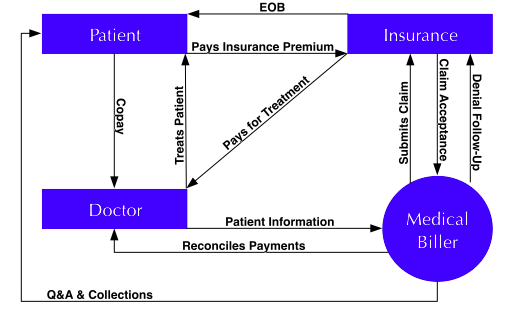 It all begins with the patient, or the "insured". The patient pays
insurance premiums
throughout the year. In exchange for these insurance premiums, the patient's insurance carrier provides healthcare coverage. When the patient gets sick, they use that coverage to obtain healthcare from a doctor. This "
healthcare
" is also known as services rendered. After services have been rendered, the patient typically has to pay some sort of
copay
or
coinsurance
. A
medical biller
or
medical billing
company facilitates the reconciliation of the patient payment on behalf of the doctor. At this point, the medical biller will obtain the patient's protected health information, or "
PHI
". The T's are crossed, the I's are dotted, and the medical biller submits a claim to the insurance carrier. During this submission process, a
clearing house
reorganizes the claim into a format that the insurance carrier will accept. The insurance carrier will accept or deny the claim. If the claim is denied, the medical billing company has to review, correct, and resubmit the claim. Once the claim is approved, the insurance carrier notifies the medical biller and pays the doctor for
services rendered
. The medical billing company again reconciles the payment "
fees
" to the doctor, in an effort to make sure the "books" are tallied correctly. The insurance carrier will send an explanation of benefits, or
EOB
, to the patient. The EOB tells the patient what service was charged for, what
fee
was charged, how much was paid, and also indicates if there is a difference owed to the doctor. If the patient still owes the doctor, the medical billing company will facilitate the collection of this fee, and once again reconcile the books. During this entire process, the medical biller works as an intermediary between the patient, the doctor, and the insurance carrier. Suffice it to say that "someone" has to keep everyone in the loop and the
healthcare records
straight... That "someone" is the medical biller or medical billing company. Useful information about medical billing and insurance carriers can be found on the
HealthCare.gov
and
CMS.gov
websites.
---
How do I become a medical biller?
Training!! Whether you "go to school" or receive "on the job" training, you're going to need a resource to keep you on track. A
NETWORK
of experienced medical billers and resources is what you need! The
American Medical Billing Association
is the preferred trade association amongst medical billers nationwide. With AMBA, you can network with peers, take online courses, view webinars, and become
certified
in medical billing. You can learn more about AMBA here: ​
http://www.americanmedicalbillingassociation.com
---
What is medical billing certification?
---
How do i start a medical billing company?
You can start a medical billing company with a little entrepreneurial spirit, hard work, and proper training. Medical records and health information technicians are in higher than average demand according to the
Bureau of Labor Statistics
. The BLS also indicates that this profession's growth rate will increase annually with population growth. Basically, people get sick, and sick people need healthcare. If there are sick people and healthcare, there will also be insurance and medical billers. Once of the four components cannot function without the other...
Similar occupations
have a median pay rate of $45,528 per year, according to the BLS. However, a business owner might realize profits much larger than that. Keep in mind that starting a business can be a rigorous process. A good place to start your research is at the
SBA.gov
website. Here you can conduct market research, get help writing a business plan, view funding options for your business, learn how to pick the appropriate business location, determine what type of business structure you need (LLC, Inc., etc.), pick a good business name, register your business, obtain federal and state tax ID's, and even open a business banking account! That takes care of the "starting" portion of starting a business...
​Now you can focus on mastering the art of collecting fees for medical services rendered... Of course OJT, or on the job training, is always a good idea if practical. Meaning, you can get educated in medical billing, or find a job in medical billing, while "starting" your own medical billing business. There is no right or wrong way to start a business. You simply do what you can, when you can. The most important thing is to focus on your long term goal and keep your eye on the prize. Eventually all the puzzle pieces will fall into place! So, if you follow the scenario outlined above, you've already created a
business plan
and budget. Which means you did your research and already know how and where you're going to get your
medical billing training
. A good place for this training is with the American Medical Billing Association. You can choose from various
online courses
, a
medical billing billing start up program
, or
medical billing certification
. The most successful business owners generally opt for all 3 options. This is because
Continuing Education Units
, or CEU's, are a very important part of the overall process. Think of it from a doctor's perspective... Let's say you want to outsource your medical billing to a 3rd party, but you want to make sure you choose the best possible company. I bet you would seek out a
certified medical billing
company with the
Certified Medical Reimbursement Specialist
credential. Why you ask? Well, that doctor is also going to do his or her research. Upon which, they will realize that the CMRS medical billing certification is the longest standing exam for professional medical billers. They will also know that Claims Transit, now known as the
American Medical Billing Association
, was the first company in the Oklahoma City mid-continent area to submit
electronic claims
- which is now recognized as the preferred medical billing process...
---
What else do I need to know?
Whether you're seeking a job as a professional medical biller, or looking to start your own medical billing company, you're going to hear acronyms like HIPAA, CMS, EDI, HHS, OIG, HITECH, PHI, AOB, EOB, BCBS, COB, DOS, HMO, PPO, and so on... You can learn about some of these terms via the
CMS.gov Acronyms Tool
. Not only do you need to know what these medical billing acronyms stand for, you need to understand how they all influence the medical billing process. At this point, I'm sure you're thinking, WOW, there is a lot to learn! The simple response is "yes", there is a lot to learn - but like anything else, a structured learning program can make things a whole lot easier. So what really constitutes a "structured learning program" for medical billing? It could be offered in many different ways. Such as post secondary schooling, higher education facilitation, distance learning, and online training. You might think the content would vary significantly between those examples, but the simple truth is, the content is likely coming from one major source - like AMBA (American Medical Billing Association). You see, not only does AMBA offer training directly to the student, but it also works with 100's of schools and learning centers across the nation. In fact, AMBA has over 17,000 customers that help support over 1 million doctors of medicine nationwide. Yes, you read that correctly. According to statista "
The Statistics Portal
", in 2013 there were over 1 million physicians/doctors in the United States. Think about that for a second, Over 1 million in 2013... Suffice it to say that number has grown exponentially since then. In fact, the
Association of American Medical Colleges "AAMC"
published statistics in March of 2017 saying that the US forecast indicates a shortage of 100,000 physicians by the year 2030. It doesn't take a rocket scientist to realize that this is good news for the medical billing industry! The conclusion of the article basically said that to avert the shortage, technological advancements and a strong push to train more physicians would be necessary. As referenced above, the patient, doctor, insurance, biller relationship will evolve together. Meaning new technologies, more training, and more medical billers will be needed in the near future. With its nearly 30 years of stability, the
American Medical Billing Association
will continue to be an invaluable networking resource to stay current on market trends, technology improvements, and regulation guidance.
---

---